HOME IMPROVEMENT SHARP SOLUTIONS
Mike Sharp &
Jason Habermel
Mike is originally from Seymour, Indiana. He began his college studies at Purdue before ultimately completing his degrees through USI. It was here at USI that Mike met his wife Ginie, an Evansville North grad. They have two boys together that are currently attending USI and Evansville Christian High School. Mike has been actively coaching area youth and travel teams in both baseball and basketball for the last 12 years. He and his family are regular attendees at Christian Fellowship Church.
Mike spent his first 10 years professionally in tool, equipment and special event rentals. From there he spent some time in contractor sales before establishing his own contracting business. Over the last 10 years, Mike has worked alongside a variety of local contractors before ultimately finding the opportunity to partner with Jason and bring the quality and dependability of Sharp Solutions Home Improvement to the tristate.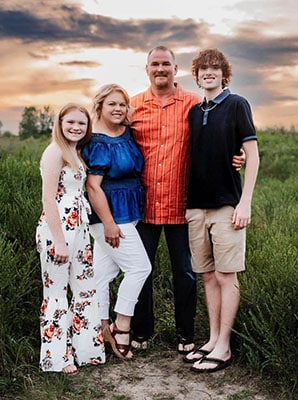 Jason Habermel was born and raised in Evansville, Indiana where he attended North High School. After graduating from North, Jason attended University of Kentucky where he continued his athletic career in football and coached in the 1993 Peach Bowl. Jason then accepted a position with the University of Kentucky's men's and women's tennis team as the head strength coach for two years before graduating with a degree in Education.
After graduation Jason moved back to Evansville to be closer to his family and began his professional career in sales. In 2002, Jason met Christy and married two years later. They have two children Owen and Aubrey. Jason has been serving the tristate for over 18 years in the construction industry as a hod carrier, then a concrete finisher, project manager, sales manager and finally as an operating partner with Sharp Solutions Home Improvement. Jason is excited to bring his knowledge and experience he has learned to your project.
Jason and Mike saw the need for a reliable, affordable home improvement company for the Tri-State area. With their combined years of experience in the industry, they have joined forces to bring you
Chad is a native of Newburgh, Indiana and is a 1995 graduate of Castle High School. While attending Castle, Chad met his future wife Kari and married for 21 years.  They have a beautiful daughter Kaleigh who they enjoy watching her perform in choir and drama. Chad continued his education at the Nashville auto diesel college and received his Associate Degree in automotive and diesel technology. Chad spent the next 20 years as a technician in the auto and diesel industry working his way to the role of service manager and fixed operations director. In 2018 Chad left the automotive industry to pursue a career in home rehabilitation and remodeling. In 2022 Chad accepted the position with Sharp Solutions and is excited to bring his customer service knowledge to each job to enhance the customer experience.
Sharp Solutions Home Improvement