HOME IMPROVEMENT SHARP SOLUTIONS
Sharp Solutions is proud to be the Tri-state's Exclusive TrexPro GOLD contractor. Sharp Solutions Home Improvement can create and install any custom deck for your home; tailored for the way you would like it. Our talented team has decades of experience, and can build you a deck of any shape and size.
Adding a deck to your home is a great way to increase the curb appeal of your home, increase the home's value, and to add a personal touch to your home. Decks are great for unwinding after a long day, entertaining company, or simplying relaxing with the family on a beautiful day!
Wood decks can be stained any color, which is perfect for any of your landscaping designing that you have. Our team will work closely with you to ensure that you get the ideal deck, and that it looks just the way you want it to. Our quality designed and built decks will help to accentuate the area, and you are sure to love your new deck.
Since each deck is custom built, the possibilities for your new deck are endless. They can be built around a pool, flat, two-story, and so much more. Our team will work tirelessly to make sure you are pleased with your new deck so we can start building right away for you!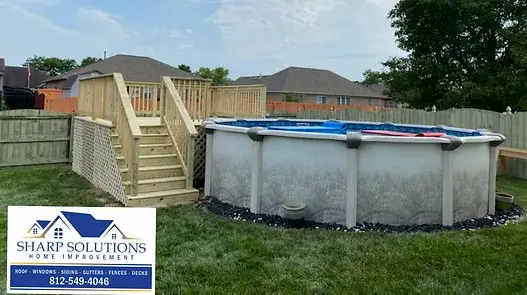 You may be wondering why you should choose Sharp Solutions Home Improvement for your fencing needs. We bring many years of experience to the table not only in designing a great fence system for you but in installing it as well. We believe that the quality of material we use is just as important as how we install it. It's our main goal to ensure you enjoy a long-lasting, durable fence for many years to come.
Our fences enhance and augment the look of any property, bringing unmatched value to any space.
Whatever you need — vinyl, cedar or pressure treated pine – we have it:
Cedar: spaced, solid, shadow
Pressure treated Pine
Vinyl: residential, specialty
We give you high-quality materials installed at the right price. And with financing to suit any budget, adding a fence to your yard is more affordable than ever. We work one on one with our clients to come up with a customized plan that speaks to their unique needs and budget.